Professional Learning (CPD)
"We know that teachers learn best from other professionals and that an 'open classroom' culture is vital: observing teaching and being observed, having the opportunity to plan, prepare, reflect and teach with other teachers. Too little teacher training takes place on the job, and too much professional development involves compliance with bureaucratic initiatives rather than working with other teachers to develop effective practice"
The Importance of Teaching, 2010
Notre Dame's vision for Continuing Professional Development:
"A culture of critical friends who support each other's professional development, sharing the belief that we are all life-long learners, and empowering each other as resilient professionals resulting in better outcomes for students"
Our CPD aims:
1. To maintain a focus on pupil outcomes in all that we do;
2. To base changes to our practice on robust evidence and expertise;
3. To nurture effective collaboration between colleagues in order to share best practice, whilst respecting that there are many styles of teaching (and many different roles amongst support staff requiring bespoke provision);
4. To allow staff time to effectively embed enhancements to their practice, through sustained programmes of CPD.
Our CPD pillars:
Our formal CPD activities fall into the following 'pillars', although we recognise that there are numerous informal CPD opportunities which occur on an adhoc basis: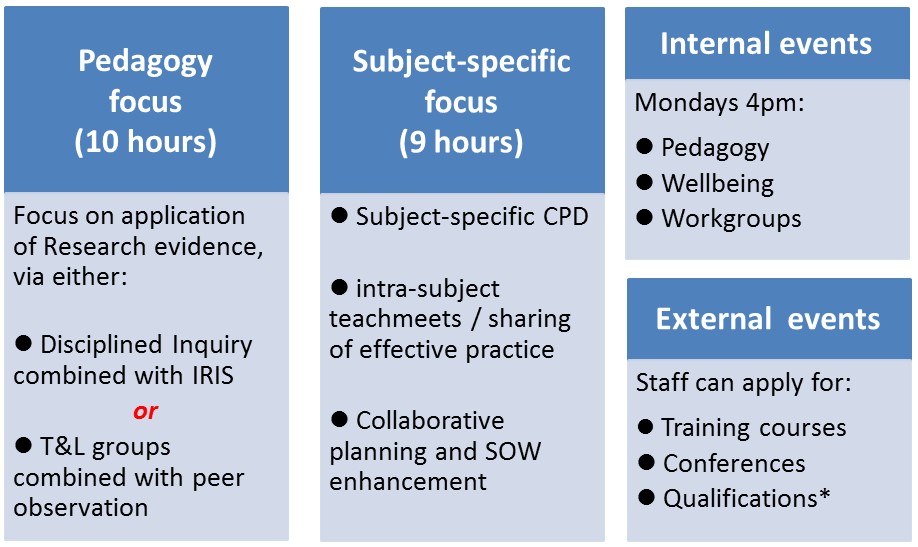 Current staff are expected to familiaise themselves with elements of our CPD, using either the T&L Key Systems handbook (for Teachers) or the Support staff Key Systems handbook (for support staff). Both of these documents are issued to staff at the start of each year, as well as being available on school computers via Start -> Staff Core Programs.
*We encourage teachers to complete professional qualification, and recognise the time commitment involved in some cases. Teachers can apply to 'opt out' of the Pedagogy focus, and use the associated disaggregated time to enable them to undertake approved qualifications.
Related documents and forms:
How our CPD delivers on whole-school and individual need:
For teaching staff, our CPD is integrated with our Performance Development and Quality Assurance processes. For support staff, our CPD is integrated with our Appraisal process. These links help us to respond to individual training and development needs as well as the aims of the school overall.
Each year, evidence on the school's performance (including exam outcomes and quality assurance) and areas for development is used to develop Key Notre Dame Aims (KNDA). Current staff can refer to these in Cornerstone. Related goals set for Teachers and Support staff in their annual reviews, stem from KNDA. These goals are developmental, and in the case of Teachers they drive the Pedagogical focus for the year.
KNDA is also referred to in developing a calendar of CPD twilight sessions which run every Monday after school.
How we prioritise CPD:
At Notre Dame we prioritise CPD at all levels:
We draw on our Research School status. Members of the Research School and Teaching School teams work together to filter and collate high quality research-informed resources for teachers, working alongside middle leaders to ensure that these translate to each subject team's need and context. These are delivered both through our internal CPD framework, and through Research and Teaching School programmes, which our staff can attend alongside colleagues from other schools.
We encourage working with other schools and educational bodies. Our Research School team will support subject teams in applying to participate in Innovation trials, for example with the EEF, where such trials align with school / subject team priorities. Equally, Notre Dame is a fabulous school containing many examples of effective practice. With suitable evaluation from an early stage, these examples could become the basis of future trials. Finally, via our Teaching School Alliance, various subject bodies and the VNET schools partnership, we encourage subject teams to work with other schools to share challenges and collaborate on solutions.
We have a generous financial budget. Benchmarking conducted in 2016-17 and 2018-19 places us in the top 20% of all UK maintained schools in terms of the proportion of our income spent on CPD, without factoring in CPD-related roles, cover costs and so forth. This enables us to bring in quality providers to deliver CPD events in school, and to send staff on quality CPD events outside the school;
We allocate defined directed time to CPD, which if costed in terms of staffing, would rank us higher still compared to other schools:

We disaggregate 10 hours / 2 working days per year to enable CPD activities relating to pedagogy;
We have eliminated less effective meetings and reallocated the time (a total of 9 hours per year) to subject-specific CPD.
We recognise that the Leadership team must fully engage themselves in CPD. All members of the Leadership team are active participants in our CPD programme;
We recognise that CPD is a complex activity, and that the processes which support it will never be perfect. We therefore seek to rigorously evaluate our CPD, and pilot any changes in consultation with staff. For example, we continue to be cautious as we seek to scale-up in the use of Disciplined Inquiry across subject teams.
We recognise that our Governors require CPD in order to carry out their role effectively, and have a dedicated CPD budget for Governor training.