Data Team & MCAS

My Child At School (MCAS)
MCAS is the online system that we use for storing and accessing our students' data. This includes their contact details, timetable, behaviour events, homework events and reports.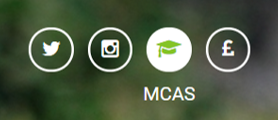 To access MCAS you can click on the My Child At School Logo on this page. Or, there is a quick link icon to MCAS at the top of every page on our website.
Please contact our Data Team if you have any questions about using MCAS, or if your child's key information needs updating.
Visit Reports and Parents Evenings for information about your child's report and when you will receive them.
For Parents Evening dates, visit our Calendar.
Contact details
Telephone 01603 611431
Email dataadmin@ndhs.org.uk
Miss Sarah Cheshire - Data & Development Manager ext 1011
Mrs Catherine Redfern - Senior Data and Curriculum Coordinator ext 1012