Supporting our Wider Community
An important aspect of our Mission is to reach out beyond the gates of our school to the local, national and global community. St Julie said that we should have 'hearts as wide as the world'. We are inspired by the principles of Catholic Social Teaching in all our actions.
Catholic Social Teaching
'Our lives are involved with one another, through innumerable interactions they are linked together'
Pope Benedict XVI
Catholic Social Teaching (CST) is rooted in Scripture, formed by the wisdom of Church leaders, and influenced by grassroots movements. It is our moral compass, guiding us on how to live out our faith in the world through social justice and charitable works.
For a quick introduction to CST, watch the video below
We are inspired by the following 6 key principles:
1. Life and Dignity of the Human Person
We are made in God's image. This means we each have a God-given dignity and the right to life. We are all brothers and sisters, which requires us to respect and value ourselves and care for each other. Within our workplace we must have dignity for each other's roles and the work that we do.
2. Family and Community
Created in God's image, we are social creatures. Through our relationships with family and community we are shaped and formed and the dignity of every individual is realised.
It is out of community that we are sent to love and serve the world. The more we focus on meeting the needs of others, the more effectively we love them.
3. Solidarity and the Common Good
We are one human family, whatever our differences. St Paul reminds us that each of us is a valued part of 'one body'. Solidarity arises when we remember that we belong to and depend on each other. Solidarity spurs us to stand side by side with our sisters and brothers, especially those who are vulnerable, or living in poverty.
The common good is reached when we work together to improve the rights and wellbeing of people in our society and the wider world. Every member of society has a duty to develop this common good and every member has a right to enjoy the benefits it brings.
4. Preferential Option for the Poor
The morality of society is judged by how well our most vulnerable members are faring. We live in a bountiful world with enough resources for everyone. Yet, many miss out. In a society marked by the deepening divide between rich and poor, Jesus' teachings call us to put the needs of the poor and vulnerable first in all our actions.
5. Care for our Common Home
God is revealed in creation. We are called to honour and respect our planet and to live in relationship with all of God's creation. In Pope Francis' letter 'Laudato Si' he calls us to re-engage with our environment, take responsibility for it and live sustainably.
6. A Just and Fair World
We have the right to food, shelter, health care, education and meaningful employment. All people have the right to participate in decisions that affect their lives. Corresponding to these rights are our responsibilities to respect and care for others. We are called to speak out against injustice. The role of people in positions of power is to look after the good of all. Our economy exists to serve people, not vice versa.
The Church teaches us that peace is central to the Gospel and represents a challenge to many contemporary attitudes and assumptions. It asks Christians to be true peacemakers bringing forgiveness and non-violent solutions to situations of hurt and violence.
Our Mission and Ethos calls us to love our neighbours in every situation, especially our sisters and brothers living in poverty. Following in the footsteps of Christ, we put God's love, hope forgiveness and peace into action throughout the world.
Catholic Agency for Overseas Development (CAFOD)
We work closely with the Catholic Agency for Overseas Development (CAFOD).
CAFOD's vision and mission draws directly from Catholic Social Teaching.
Over the last five years CAFOD have been particularly inspired by Pope Francis' encyclical letter Laudato Si'. Pope Francis calls us all to respond to both the cry of the earth and the cry of the poor in Our Common Home.
United Nations Sustainable Development Goals
The United Nations have shared blueprint for peace and prosperity for people and the planet, now and into the future. At its heart are the 17 Sustainable Development Goals (SDGs), which are an urgent call for action by all countries - developed and developing - in a global partnership. They recognize that ending poverty and other deprivations must go hand-in-hand with strategies that improve health and education, reduce inequality, and spur economic growth – all while tackling climate change and working to preserve our oceans and forests.
We enhance our school's curriculum and weekly themes with the SDGs to enable our students to not only understand the priorities for our world, but also the opportunities for a diversity of careers to address these issues.
Useful Links
Notre Dame Weekly Theme Planner contains links to all the key UN Awareness Days
Geo-6 for Youth is a one-stop-shop for young people to understand the state of the environment, what actions they can take and how to develop their skills and choose environmentally sustainable careers.
Global Dimension is a website with up to date information on global issues and contains a calendar of International Awareness Days
Supporting Charities and our Sponsored Walk
Each year we organise a wide variety of activities to raise funds for local, national and international causes.
On our Founder's Day in October, the entire school community go on a sponsored walk together.
School of Sanctuary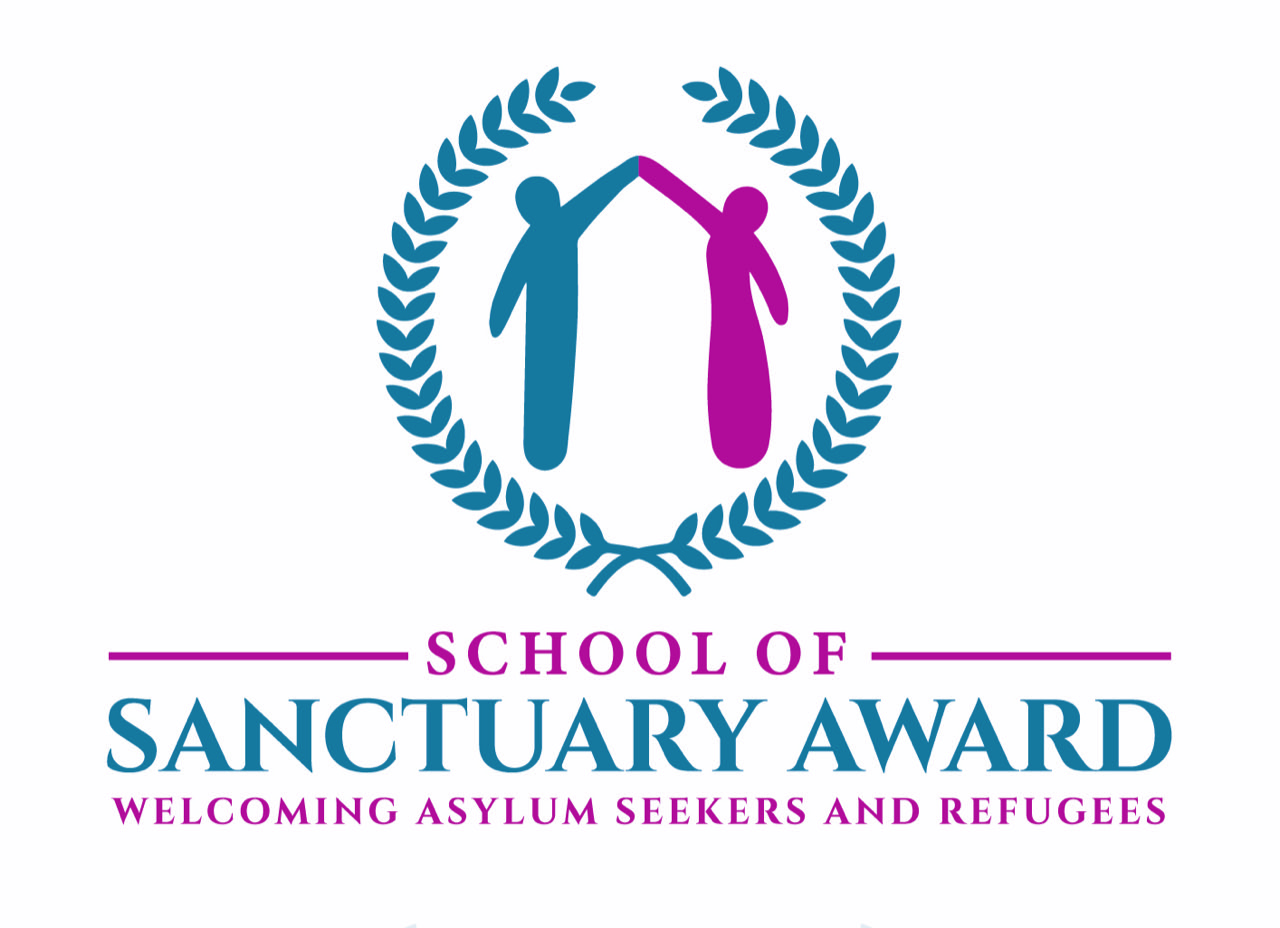 Our Mission Statement expresses our commitment to be an 'inclusive' school and we celebrate our diversity.
We are justly proud to be awarded School of Sanctuary status since 2017.
To find out more about how this shapes the life of our school, visit our School of Sanctuary page.
St Martin's Trust Affiliation
St Martin's Housing Trust mission is to improve the lives of the most vulnerable and increase compassion our community.
They work to reduce homelessness in our community by providing housing, support and care.
They also enhance understanding and compassion towards homeless people in our community through education and advocacy.
Since 2019 our School Council have continued a commitment to fundraise for St Martin's Trust through our Sponsored Walk.
In December 2020 our students wrote special Christmas cards with personalised messages of hope and friendship which were given to people supported by St Martin's Trust over the Christmas period.
We are currently working on an Arts collaboration project called CREATE! in which our students and clients at St Martin's are sharing together examples of their creative work.
Artsmark and Local Cultural Education Partnership (LCEP)

We recognise the vital role that Arts and Culture play to support our mental well being, stimulate creativity, express our values and celebrate together as a community.
We are very proud to have been awarded Gold Artsmark Status and to be a member of the Norwich Local Cultural Education Partnership (LCEP).
We are currently developing links with a wide variety of Cultural Providers including Norwich Castle Museum, The Norfolk and Norwich Millennium Library and St Peter Mancroft Church.