School of Sanctuary
Our Mission Statement expresses our commitment to be an 'inclusive' school and we celebrate our diversity.
We are justly proud to be awarded School of Sanctuary status since 2017.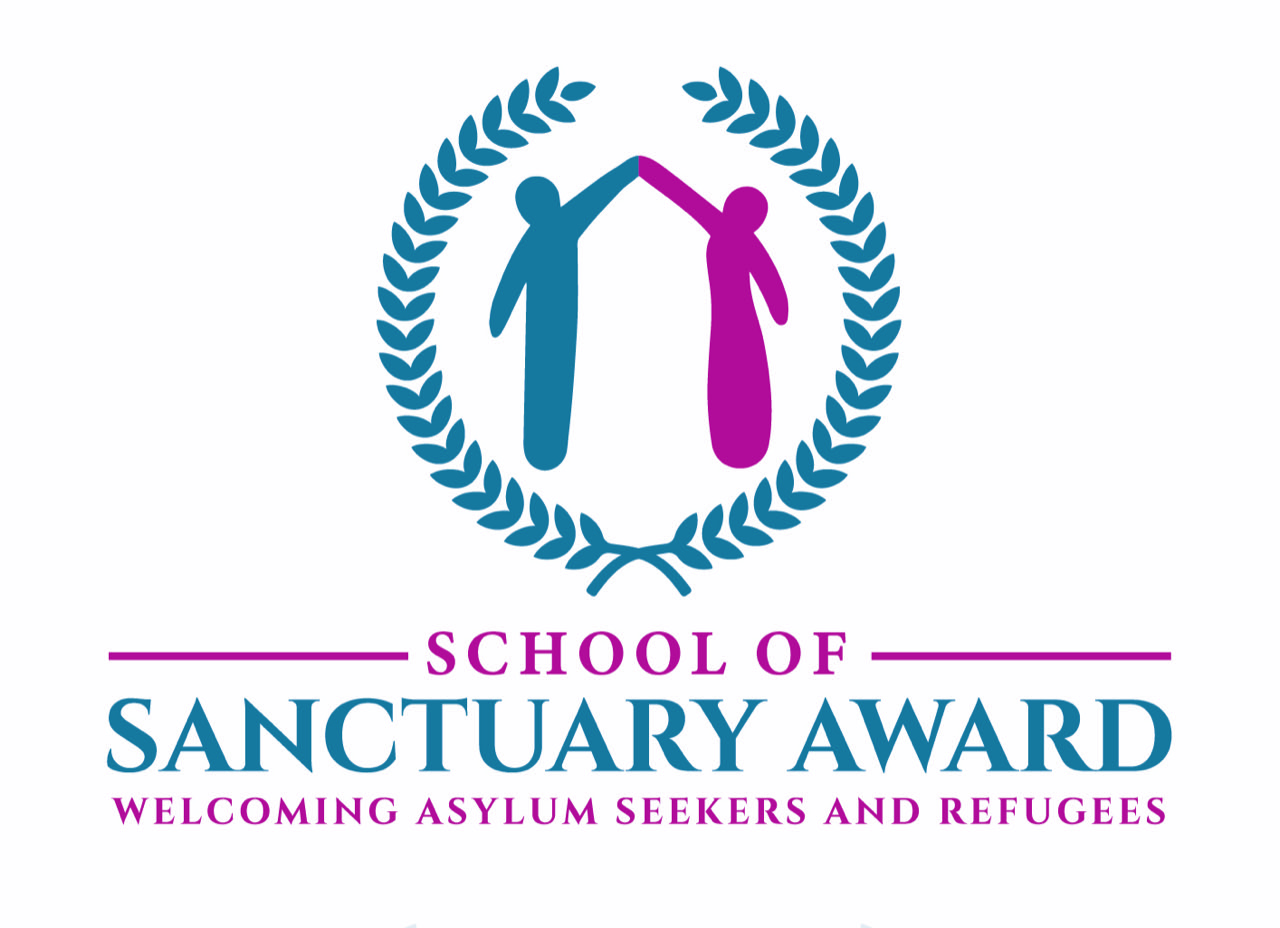 The Schools of Sanctuary initiative celebrates the good practice of schools who welcome asylum seeking and refugee families into their school community and foster a culture of welcome and inclusion for all.  Today there are more than 300 Schools of Sanctuary in Wales and Ireland as well as many English cities and towns. 
School of Sanctuary is part of the City of Sanctuary movement which holds the vision that the UK will be a welcoming place of safety for all and a place that is proud to offer sanctuary to people fleeing violence and persecution.
Schools of Sanctuary help their pupils, staff and wider community understand what it means to be seeking sanctuary and extend a welcome to everyone as equal, valued members of the school community

As a School of Sanctuary we aim to:
Create a culture of welcome for everyone, especially refugees, asylum seekers and other sanctuary seekers
Promote the voices and celebrate the contributions to our society of people who have either sought or are seeking sanctuary
Build understanding of the experiences of displaced people and help combat stereotypes relating to refugees and asylum seekers
On our Founder's Day in October 2021we asked our whole school community to consider the theme of 'inclusivity' and what we could do to make our school even more inclusive. The presentation below shows the ideas we shared and are now putting into action.
How we support students

In terms of welcome and support we provide all new EAL and refugee students with specially made welcome / induction booklets. These are highly visual and explain clearly who key people are in the school, how to use a timetable, where to buy school uniform, where to go for help, maps etc. We ensure that all new EAL and refugee students have a welcome meeting with parents, head of year and the EAL coordinator before they start. Students English level is also assessed. We prioritise refugee students for 1:1 English lessons. They are given a tour of the school and assigned a 'buddy' to look after them.
We arrange for all of our refugee students to have an interpreter at parents' evenings to help with communication between teachers, student and family members. We work closely with the 'key workers' of refugee families to help them integrate into the school community.
Our school's website is specially designed to auto translate into different languages (click the globe icon at the top right of any page).
How SoS enhances our curriculum
Within the PSHE curriculum, we develop aspects of equality and diversity through Y7-10. We look at range of topics, from British identity and community to some specific lessons on refugees. Y7 looks at our role as global citizens. Y8 looks into the diverse range of families in the UK. Y9 examines the links between media, politics, attitudes and extremism.
As an integral part of the KS3 RE Curriculum, specific lessons are taught about the plight of refugees, based around the Lampedusa Cross and CAFOD's work with charities in aiding the crisis.
We mark the UN International Awareness Day for the Elimination of Racial Discrimination on the 21st March. In 2021 we were invited to create a performance of Benjamin Zephaniah's poem, We Refugees. This was then show to our KS3 students to help them analyse the poem and the issues it raises
We celebrate Refugee Week on an annual basis with assemblies, form time activities, workshops, extra-curricular activities, specific refugee related lessons within departments and relevant images and information displayed on the plasma screen displays around the school. We also raise funds for local charities that support refugees including the Norwich Integration Partnership.
An important part of Refugee Week is celebrating the contributions, creativity and resilience of refugees and people seeking sanctuary. All year 7 students take part in either an African drumming or capoeira workshop fully funded by our PTFA.
Our annual Year 10 retreat is on the theme 'We are a School of Sanctuary'. The day is designed to engage all Year 10 students, to reflect on the plight of refugees and the enrichment of inclusion and welcome. Guests have included CAFOD, sharing their ethos and work in helping refugees through the wider charity Caritas, Ice&Fire, a London based Human Rights theatre group, who performed refugee monologues and two community members who came to this country as refugees, and shared their very personal and courageous life stories with the students and opened a forum for discussion and empathy. Norwich Internal Youth Project also provided a workshop.
Key Stage 5 - Culture and Faith Studies - All sixth form students study one hour a week of Culture and Faith studies. Within the curriculum, we have devised lessons on conflict and war, with focus on Syria, it's cultural background and heritage and the devastation it has suffered and subsequent displacement. The students watched the documentary, 'For Sama' and engaged in discussion and ideas on action and empathy. We explore the needs of refugees and what it means to seek sanctuary – linking with current affairs and political views/manifestos.
Holocaust Memorial Day and HMD Statement of Commitment

Each year we mark Holocaust Memorial Day in January with special assemblies and activities within relevant subjects. Since 2020, we have also helped to organise and participate in the Mayor of Norwich's HMD Civic Service.
We renew our commitment to the principles of Holocaust Memorial Day with a statement of commitment.
SoS Special Events and Achievements
Fifty students from Year 7 and Y8 attended a morning of raising awareness of the refugee crises at the Forum Millennium Library in June 2018 and a similar event in June 2017. This was part of 'Norfolk Welcomes'.
In June 2018 twenty-four students from Year 7 and Year 8 attended a 'Schools of Sanctuary' Celebration event at the Octagon Chapel. They attended a poetry workshop which focussed on showing empathy towards refugees, we helped to decorate the Octagon Chapel for an event in the evening and students were interviewed about the workshop by local radio.
In January 2019 ten Year 12 students took part in a CAFOD Youth Leadership Programme which focussed on 'understanding charity' within the context of the refugee crises.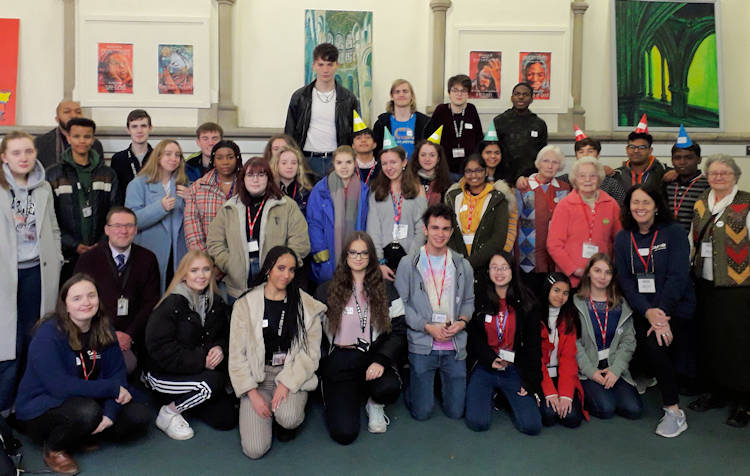 Year 8 students took part in St Peter Mancroft 'Christmas Tree Festival'. Students wrote notes and poems for local refugees and used these to decorate the school's Christmas tree which was displayed in the church.
Fundraising
The School Council decided to support New Roots and English Plus with some of the proceeds raised from the school's annual sponsored walk in October 2019. New Roots were awarded £2250 and English Plus were awarded £1500. Both of these charities work very closely with refugees in the community and attended out Christmas celebration to collect the cheques and make speeches.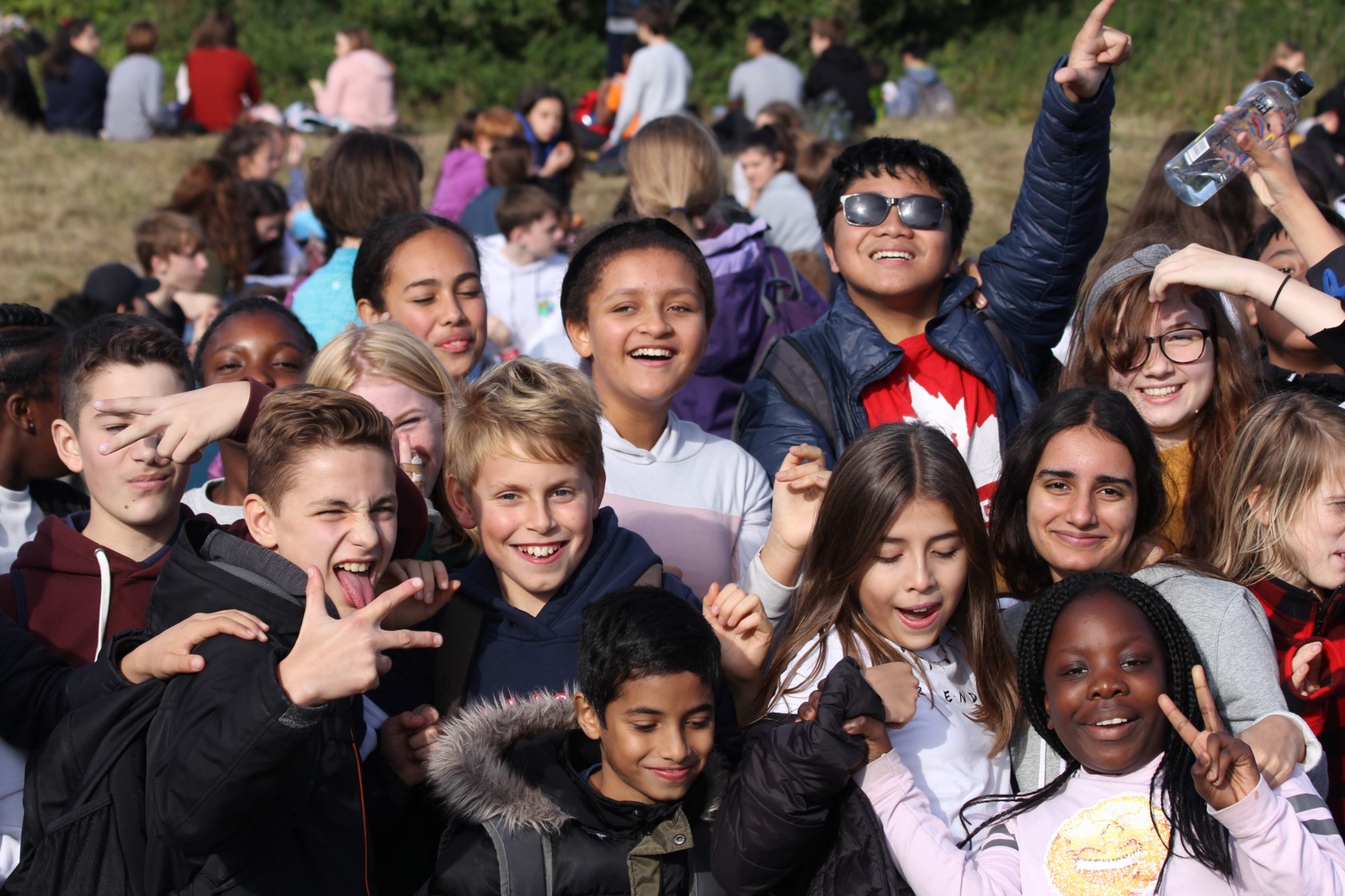 External Resources
School of Sanctuary
For more info about other SoS schools around the country visit the SOS website.
UNHCR
UK government
Home Office migration statistics are collected here and immigration for the year ending September 2019, here.
House of Commons Library statistics on migration to and from the UK. Also statistics on asylum seekers and refugees in the UK.
The UNHCR Resettlement Handbook (UK chapter) explains the schemes that the UK government uses to assess and resettle refugees (March 2018). See also UNHCR Asylum in the UK
The Migration Observatory at the University of Oxford seeks to inform public debate and policy through data and statistics.
Right to Remain Toolkit Informative guide to the UK's immigration and asylum system. See also this video from the Leeds Asylum Seekers Network
The Refugee Council provides definitions of key terms and key statistics.
The Atlas of Migration, produced by the European Commission's Knowledge Centre on Migration and Demography, lets you compare countries' intake of refugees through maps and statistics.
Global Humanitarian Assistance Report 2018, chapter 1
Moving Here Offers free access, to an online catalogue of original material related to migration history, over the last 200 years, from local, regional and national archives, libraries and museums.
Operation Refugee Child Factsheet (Mar 2016) – This useful fact-sheet has updated information about the current refugee crisis with colour graphics, charts and pictures.
News stories