Textiles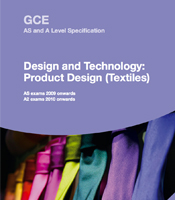 Course name & exam board
AQA Product Design (Textiles route 1561) - legacy qualification. .
Exam board = AQA
Key contact for interested students
Mrs Emma Rhodes (Textiles teacher) or Miss Jane Buck (Head of Technology).
Details of what the course covers
Click here for exam board specification.
Entry requirements
A GCSE in this subject is desirable but not essential. Click here.
A-Level Design and Technology: Fashion and Textiles is a creative and thought-provoking qualification which gives students the practical skills, theoretical knowledge and confidence to succeed in a number of careers, especially those in the creative industries. Students will gain a real experience of what it means to be a designer, alongside the knowledge and skills sought by higher education and employers.
Students will have the opportunity to explore a range of textile media and techniques using a variety of equipment throughout the Design and Technology department. This includes CAD and CAM equipment such as specialist software, sewing machines and laser cutters.
Educational visits have included: New Designers; The Clothes Show Live; the Victoria and Albert Museum and London Fashion Week.
The course leads to a range of degree level courses, such as, Fashion/Textiles Design/Marketing, Education, Fabric Technology, Retail, Illustration, and Theatre.
The course is assessed through two exam units, worth 50% of the qualification and one coursework unit, which is also worth 50% of the qualification.