Chaplaincy
A Warm Welcome from the Chaplaincy Team
Our Chaplaincy is the cornerstone of our school. It is involved in all aspects of the school which help us to live 'life to the full'.
Our Chaplain is Fr Sean Connelly, Parish Priest of St George's Church in Norwich. He is assisted by Alex Savage our Lay Chaplain, who also teaches in the school. They are based in the Chaplaincy Office near Student Reception.
If you wish to have a chat with either Fr Sean or Mr Savage, drop by the Chaplaincy Office, speak to Reception or the Pastoral Office or email chaplaincy@ndhs.org.uk.
St Julie and the Sisters of Notre Dame
Our school was established by a religious order of nuns called the Sisters of Notre Dame in 1864. St Julie Billiart was the foundress of the order. When you come into our Main Reception, you are welcomed by a statue of St Julie.
St Julie was passionate about ensuring that young people, especially the vulnerable in society got the best possible education. She wanted every child in her care to be taught academic subjects but also 'what they need to know for life' and to have 'hearts as wide as the world'.
Today there are Notre Dame schools and universities spread across five continents around the world. We continue to have strong links with the eight Notre Dame schools in England and Scotland and Hope University in Liverpool.
St Julie used the image of a sunflower always turning towards the sun as a metaphor for how our lives should be focussed on the goodness of God. This is why you'll spot sunflowers in our Chapel and around the school.
Every Sister of Notre Dame wears a special medal with the Order's motto 'Ah qu'il est bon, le bon Dieu' ('Ah, God is Good'). Our students wear the same motto on their uniform. This helps us to focus on what is positive and good for us in our lives. It also reminds us of the very special global community that we belong to.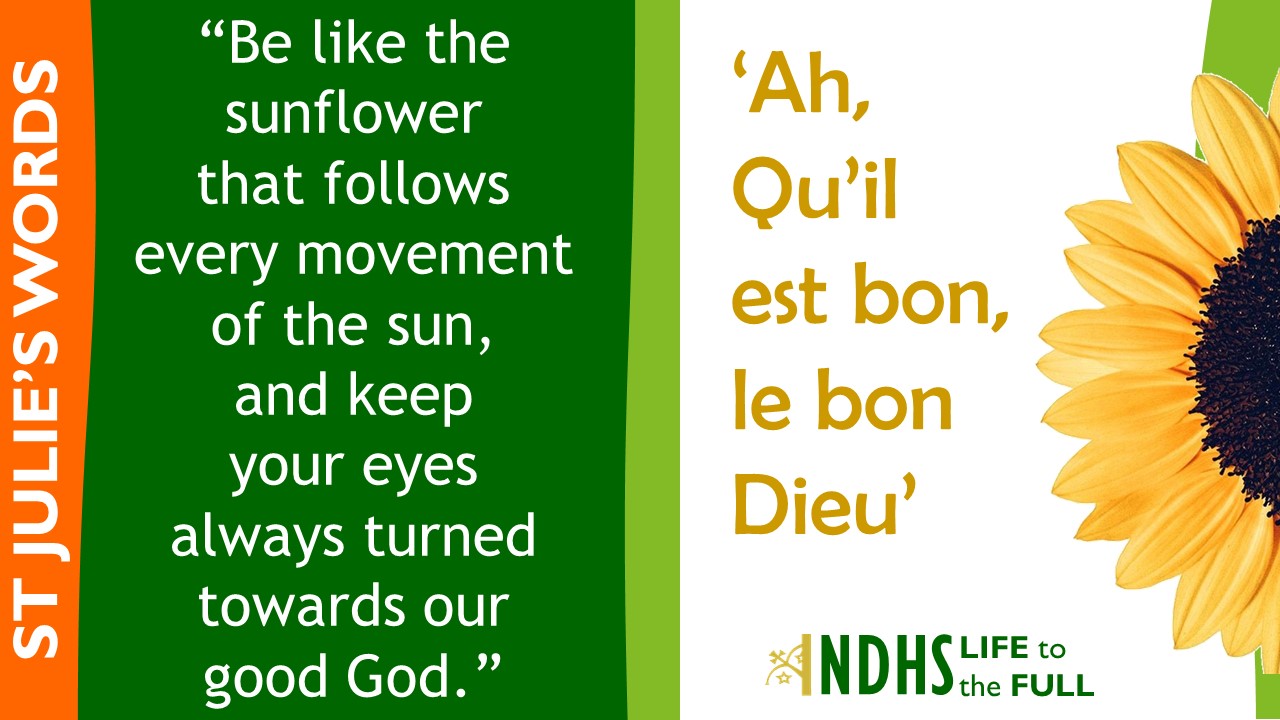 Prayer and Worship
Each week we have a special theme based on Sunday's Gospel which inspires our prayer life. At the start of each day, our staff gather to pray together. We then pray with our Forms during registration, or at our weekly year group assemblies. We also pray at the start of any meeting that have. This helps us to focus on putting Jesus' example and teachings at the centre of everything that we do.
We celebrate Mass together as a whole school community at the start and end of the year and have a special liturgy to mark Ash Wednesday and the start of Lent. Any Holy days of obligation that fall in term time are also celebrated in school.
We are very lucky to have our Chapel at the heart of the school. Students and Staff have prayed here for over 150 years, making it a very special place to find a moment of stillness and contemplation. We have a weekday Mass every Thursday for Students and Staff before school. We also have special Chapel Prayer Services for each form three times a year.
Special Celebrations
We are a joyous school and enjoy celebrating together. We start each year with a special Mass at St John the Baptist Cathedral led by the Bishop of the Diocese of East Anglia.
In October, we celebrate the anniversary of our school with a 'Founder's Day' Mass. We then all go on our Sponsored Walk to Whitlingham Lake and back to raise money for local, national and international charities.
Our Year 7s celebrate the start of Advent with a carol sing along around our Redwood Pine Tree for the official switch on of our Christmas Lights.
At the end of the Autumn Term we come together for our Advent Liturgy. We give cheques to the charities we raised funds for and give hampers of food to local groups. We also raise the roof singing a medley of carols and Christmas hits!
We begin Lent with a very moving Ash Wednesday Service, in which the whole school processes into the Hall in silence. We have reconciliation services and confession in our Chapel.
We finish the summer with an end of year celebration Mass to give thanks for everything that we have achieved and shared together.
Every year group also have their own Mass at a specific time in the Church's year, or a milestone in their education.
We also have retreat days including Mass for Years 7, 8 and 10.
Spiritual Leadership
The Chaplaincy Team supports the spiritual development of the school community in a variety of ways.
We produce a wide range of resources to support the prayer and worship life of our community.
We lead training for staff in how to support the ethos of the school and offer a 'About Being Catholic' course for staff wishing to learn more about the Catholic Faith.
The Chaplaincy Committee consists of staff from a wide variety of roles. They meet each half term to review and plan activities that support the ethos.
The Chaplaincy Reps Team consists of students from all year groups. They help to plan and review activities, particularly in developing new ways for our students to be actively involved and lead prayer and worship.