Appraisal of Support staff
Support staff appraisal is a thorough yet supportive and developmental process designed to ensure that all staff have the skills and support to carry out their role effectively. All staff have an entitlement to appraisal, with line managers and appraisees following the process set out in the Support Staff Key Systems handbook on the school network.
Our aims for Performance Development:
At Notre Dame we aim to:
Divorce accountability from development.
Develop a fair and useful process.
Ensure that that the process is a two-way conversation that involves listening.
Ensure that staff are praised for what is working, that they keep doing it and enhance that practice.
Develop a process that is a continuous chain of activity, and not a one-off meeting.
Create implementation goals that predict potential setbacks and plan for them.
Create goals that are directive, energise and increase knowledge.
Be learning focussed not outcome focussed.
Monitor progress towards goals and support through coaching and mentoring.
Develop goals that are SMART.
Our Performance Development cycle: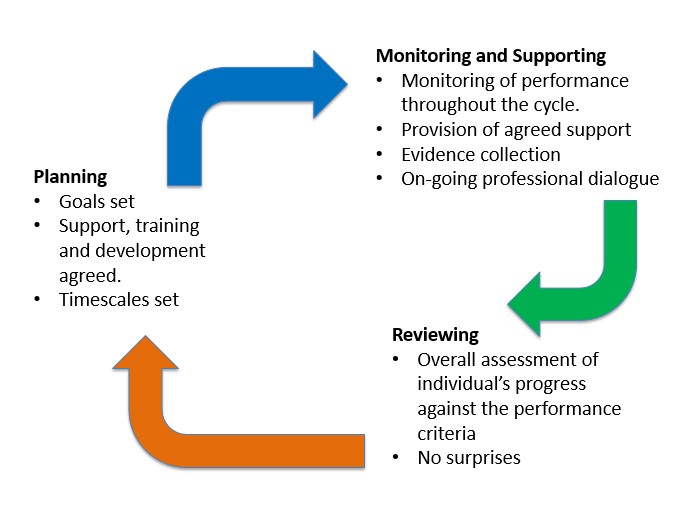 What is our assessment of support staff performance based upon?
Staff are appraised against their job descriptioins, and their conrtibution towards whole school key aims. Staff must take ownership of the process of development and not feel it is 'done to them'.
Key Support staff appraisal forms:
The following documents are to be used by line managers when conducting Appraisal meetings. Refer to the Support staff Key Systems handbook for more information about how to use them, and when in the academic year: