BAE Systems Apprentice Insight Experience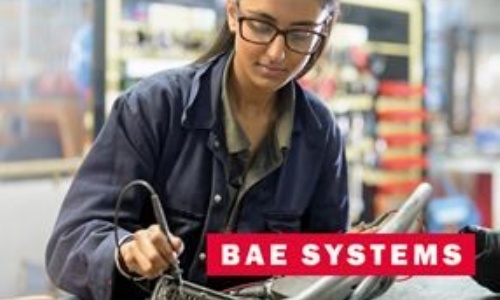 We're committed to recruiting the best and most diverse talent to our team, bringing their unique insights and perspectives to build a better tomorrow
Discover pathways to STEM success with our insight experiences
We're one of the UK's leading STEM employers, bringing together 35,300 professionals nationwide across engineering, aeronautics, technology, procurement, project management and many more. Like you, we're passionate about helping young people embrace STEM subjects and discover careers in engineering and technology.
Together we can inspire bright minds from all backgrounds to access opportunities in our industry. At BAE Systems we serve, supply and protect those who serve and protect us – and provide opportunities for our 2,000 apprentices in learning to find a place to build meaningful careers.
About our apprenticeship programmes
Our wide range of apprenticeships are designed for students of 16 years or over who have, or are about to, complete GCSE's, A-levels or equivalent.

Through study modules, hands-on experience, and dedicated mentorship, they'll earn professional qualifications equivalent to further GCSE's, A-levels, foundation degrees or even a full bachelor's degree in their chosen area – all while earning a salary.
Who we are
We're a skilled, collaborative, and increasingly diverse community of over 90,000 people in over 40 countries, creating some of the world's most advanced, technology-led defence, aerospace, marine, land and security solutions. At our core is an overarching purpose - we play our part in protecting those who protect us, making the future more secure for everyone.
Join us – and embrace the opportunity for a brighter, better and more secure tomorrow.
BAE Systems Apprenticeship Recruitment Team