Norfolk & Norwich Hospital Pathology Summer School for Y12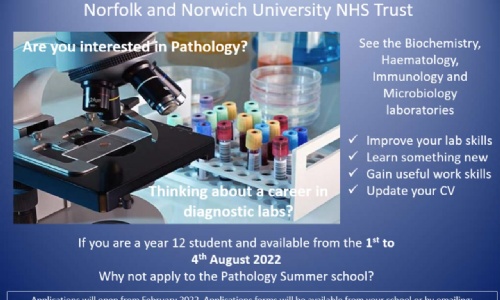 NNUH are running a Science Summer School for current Year 12 students taking place from 1st August to 4th August!
This will include an overview of pathology services within the NHS, presentations on the various disciplines within pathology, and simple laboratory practical's, including demonstrations and some 'hands-on' work.
The work experience programme will involve departments that comprise Pathology, such as Biochemistry, Haematology, and Microbiology.
To apply, students will need to email Pathologysummerschool@nnuh.nhs.uk with the attached Application Form (see attachment below). The closing date for applications will be on Friday 6th May.