Prospectus & Open Events
OPEN EVENING FOR PROSPECTIVE YEAR 7 (SEPTEMBER 2023 ENTRY)
Thursday 22nd September 2022
The school is open for viewing from 5.00 p.m. until 8.00 p.m.
Talks will be held in the Sports Hall at the following times:-
First Talk at 5.30 p.m.
Second talk at 6.30 p.m. (for those unable to make the first talk)
Open Days
Every October, Notre Dame High School opens its doors to families considering a place for their children at our school. This allows parents and their children to see what a day at Notre Dame High School is really like.
In order to ensure our visitors are spread over the days we have the following timetable.
Monday 3rd October AM - St Francis of Assisi
PM - St Edmund's & St Benet's and All other schools
Tuesday 4th October AM - St Augustines and St Mary's Lowestoft and All
other Schools
PM - St Mary and St Peter Gorleston and All other
Schools

Morning tours start each day from 9.30 a.m. from Main Reception with the last tour starting at 11.00 a.m.
Afternoon tours start at 1.30 p.m. with the last tour starting at 3.00 p.m.
If you have any questions about our Open Days, please contact our Pastoral Team on 01603 611431.
Welcome Videos
For pupils thinking of coming to Notre Dame and their families, we have created a special video tour of our school. You'll also meet some key staff along the way.
Experience a year at Notre Dame in 2 minutes!
Meet our Head Students. They will share with you how our school has helped them to live life to the full.
Click on the image below to view our Main School Prospectus. If you would like us to send you a paper copy of our prospectus, email office@ndhs.org.uk.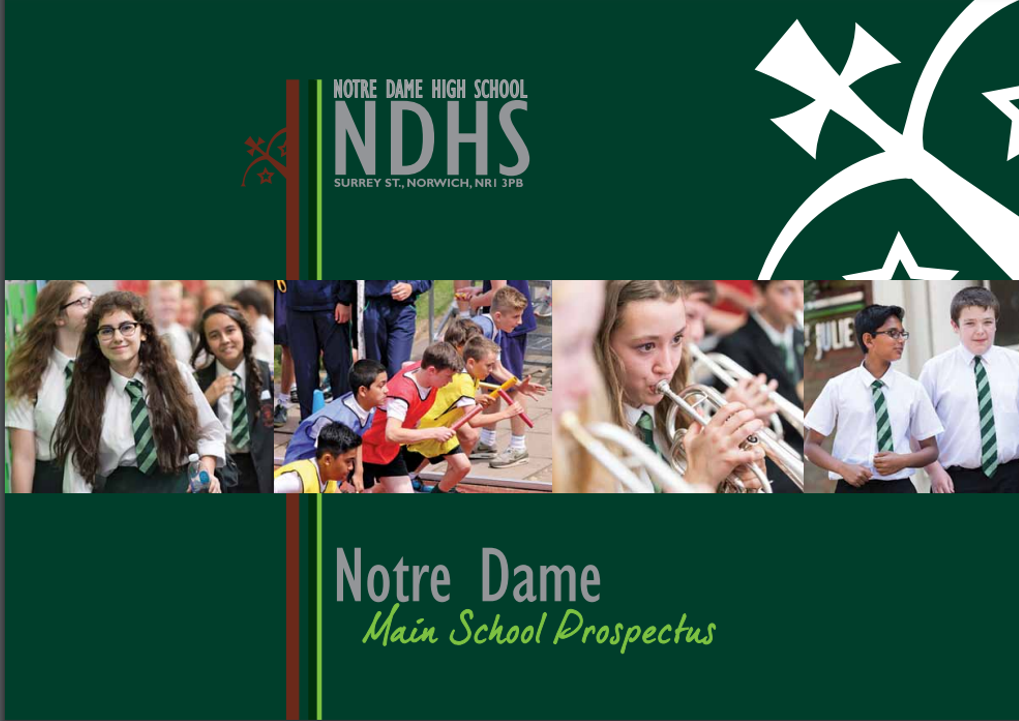 For information on how to apply for a place at Notre Dame visit Admissions
Interested in attending our 6th Form? Watch this welcome video to 6th form.
For information about applying to our 6th Form including our 6th Form prospectus and the courses we offer visit Welcome to 6th Form.