Years 7 - 9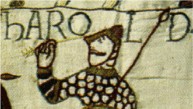 Welcome to the History department.
Click in the sidebar to access the topics and learning checklists for each year group.
Year 7 Medieval Britain and the Tudors. 1066-1600
Year 8 From the Stuarts to the Victorians
Year 9 The 20th Century World
While students will expect to cover broadly similar material whatever class they are in, individual teachers are encouraged to use their own interests, and the classes they teach to modify courses within a framework that will help the students develop a secure sense of chronology, place, change and continuity.