OPITO's My Energy Future LIVE at EEEGR's SNS 2022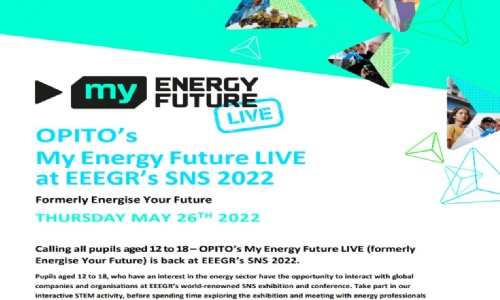 Formerly Energise Your Future THURSDAY MAY 26TH 2022
Calling all pupils aged 12 to18 – OPITO's My Energy Future LIVE (formerly Energise Your Future) is back at EEEGR's SNS 2022.
Pupils aged 12 to 18, who have an interest in the energy sector have the opportunity to interact with global companies and organisations at EEEGR's world-renowned SNS exhibition and conference.
Take part in our interactive STEM activity, before spending time exploring the exhibition and meeting with energy professionals and experts who will host interactive sessions on theirstands.
Find out more about the innovative energy industry as we transition to a net zero future Explore the vast array of career opportunities Engage directly with employers and developing technologies
Places are limited. For more information and to book, please contact Gabby Waterman – gabby.waterman@eeegr.com