Performance Management
Performance management has been defined as "a process which contributes to the effective management of individuals and teams in order to achieve high levels of organisational performance".
As such, it establishes shared understanding about what is to be achieved and an approach to leading and developing people which will ensure that it is achieved.
At Notre Dame we are committed to providing high quality training and support to all line managers who have responsibility for the performance management of teachers.
Notre Dame's Performance Management cycle: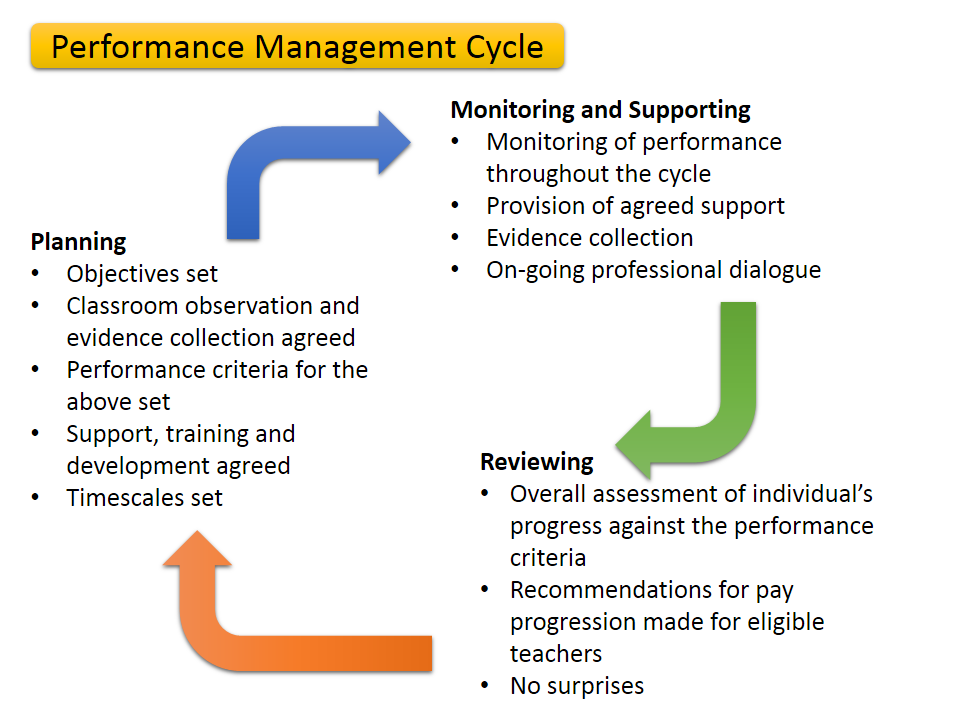 Information specific to the Performance Management of teachers:
All teaching staff and their line managers should refer to to the NDHS Key Systems Handbook on the school network.
Teachers' performance is assessed against the appropriate Teachers' Standards, their role in school and their performance management objectives. A copy of the teachers' standards can be downloaded from the Department for Education's website or at the bottom of this page.
Statutory changes now mean that pay progression since September 2014 for teachers on M1 through to M6, as well as those seeking to access UPS 1-3, will now directly linked to meeting performance criteria.
The government now requires OFSTED inspections to make a comment about performance management and professional development, including the link between performance management and pay progression as part of their judgement on the quality and impact of leadership and management within the school. This will mean that when they inspect the quality of teaching they will consider the extent to which the 'Teachers Standards' are met as well as the link made between Performance Management and pay progression.
Key PM and Appraisal forms:
The following documents are to be used by line managers when conducting Performance Management meetings. Refer to the T and L Key Systems Handbook for more information about how to use them, and when in the academic year:
Teaching staff pre-Annual PM Review self-audits:
Advice and guidance documents for staff: